"

I hear a complete song in my mind before a single note is actually played. So for me, success is making the end result sound like what I heard to begin with."
— Phillip Presswood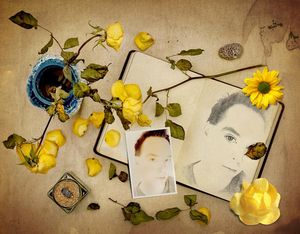 About Phillip
Immerse yourself in the enchanting sonic world of Phillip Presswood, often likened to the ethereal tones of Grammy-award winner, Enya. Phillip has cultivated a unique sound that caters to a discerning and complex audience, effortlessly intertwining multi-layered vocals, rich instrumental arrangement, and contemporary choral motifs to resonate with a diverse listenership globally. His intricate system of textural soundscaping facilitates the coexistence of multiple harmonious melodies, preventing any monotonous undertones and culminating in a richly layered soundscape. Every note and harmony you hear is purely Phillip - the composer, vocalist, and instrumentalist who meticulously crafts and produces his music, cherishing the complete creative autonomy over the resulting symphony.
Phillip was born into a British American family and displayed a natural musical inclination from a young age. Before he could articulate words, he expressed himself through imitating the sounds around him. With his first piano performance at the age of four and an original orchestral piece under his belt before becoming a teenager, Phillip's passion for music was indisputable. He delved deeply into sound synthesis methods like MIDI, sampling, and hard disk recording after his high school graduation at the tender age of 16. His relentless pursuit of knowledge and skills led him to rapidly outgrow his initial digital-only format, and his capabilities for producing layered music amplified in tandem with his expanding equipment and proficiency.
Phillip's journey took him to Washington D.C., the heart of America, where he honed his linguistic abilities and concentrated on his composition studies. His music's cinematic quality led him to contribute to numerous soundtrack projects in D.C. and beyond. His inaugural album, "Call From the West" (2004), served as a testament to his talent. He further complemented his musical prowess with a Bachelor's degree in Humanities and a Master's degree in English, specializing in Composition.
Spurred by the public's appreciation for tracks from his debut album, Phillip embarked on his solo journey with his first nationwide release, "The Secret of the Dawn" (2005). This album, despite modest marketing, saw remarkable success, reinforcing Phillip's reputation in major American cities. The astounding demand for his work led him to retreat into creative solitude, resulting in his subsequent masterpiece, "Solea" (2008).
More years of dedicated labor birthed the album "Beauty for Ashes" (2014), drawing its inspiration from the Hebrew bible's Book of Isaiah. It stands as a poignant portrayal of life's cycle - birth, destruction, and rebirth. Following this, Phillip released "Love: The Fifth Season" (2015), a comprehensive three CD set boasting 30 tracks that span genres from pop/rock and dream pop to electronica and traditional Celtic.
Phillip's journey came full circle with his fifth studio album, "ENYA" - a tribute to the legendary singer/songwriter who has been a lifelong inspiration. Released in 2019, this collection of Enya's favorites epitomizes Phillip's refined, soulful music style.